I recently created some additional modules for VCV Rack (www.vcvrack.com) and I want to share some preliminary BETA VERSION of my VCV Rack Modules Pack (for PC and MAC only, no Linux yet, sorry).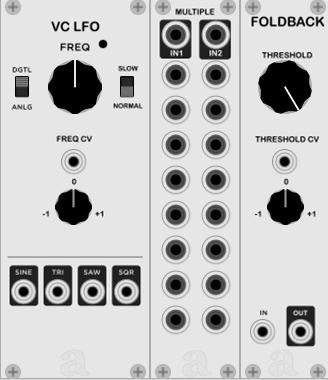 At the moment the available modules are:
-LFO with CV input wih attenuator control, Normal/Slow control and differnte Waveforms
-A simple but handy 2x8 Multiple
-A Foldback Distortion unit, with CV control and attenuator
Instructions:
2) Inside the ZIP there's a folder named "Autodafe". Extract it in your Rack/plugins/ folder (both on MAC or PC). Final Path should be: Rack/plugins/Autodafe
3) Run Rack, you should be able to see the modules with right-click. If something doesn't work just delete the "Autodafe" folder in Rack/plugins
Any feedback appreciated here in the comments, or on facebook (https://www.facebook.com/autodafe.net/)
Donations are welcome as always. Many thanks in advance!


If you find my FREE stuff useful, can I ask you for a small donation in exchange?